Natural Hydraulic Lime Stucco and Plaster
Sustainable Exterior Finishes
Stucco finishes are natural materials, with lower extractive impact than many other surfaces.  They don't outgas, and are exceptionally low maintenance in most climates.  With a good lime stucco, the surface is less brittle, and handles wide temperature extremes. 
Why Lime Stucco is Better
Lime plaster sets up to a solid mass that is durable yet relatively flexible. Hydraulic lime plaster is not as hard as cement plaster. ... Compared to cement plaster, plaster made from hydrated lime is less brittle and less prone to cracking, requiring no expansion joints.
For Most US installations we recommend NHL (Natural Hydraulic Lime) 3.5.  It is moderately hydraulic, recommended when moderate strengths and better freeze-thaw resistance are required.
Secil Natural Hydraulic Lime NHL 3.5
Secil, has been producing Natural Hydraulic Lime for over 100 years in Portugal.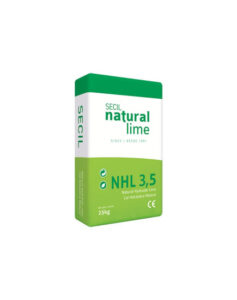 Secil NHL 2 , NHL 3.5 and NHL 5 all conform to the most recent European standards EN459-1:2010 and are supplied in 25kg bags, or used in a variety of mortars and plasters, all tried and tested in the Irish market.   These limes are suitable for Historic Buildings and New buildings, and are ideal for Faswall, straw bale and ICF surfaces.
Breathable, flexible and ecological.
Shelterworks has worked with Secil to bring this high quality natural lime to the US market.  Secil Portuguese hydraulic limes  have similar strengths to the French NHL's and are suitable for plastering, rendering, bedding, pointing, limecrete etc
Why use Secil Natural Hydraulic Lime mortars?
 Hydraulic lime mortars feature great workability and plasticity
The setting process is slower which also allows a longer working period.
Allows excellent water vapour permeability while acting as an efficient water-repellent. Reduction of condensation risk.
The dimensional variations, due to thermal or other variations, can be absorbed without damaging the substrate, offering resistance to cracking.
Perfect and durable adhesion to substrates
Excellent price/quality ratio
CE Branding on all products
NHL as a Binder, according to the NP EN 459-1:2003
 NHL as Filler substitute in bituminous paving, according to the NP EN 13043
Download the Secil Product Data Sheet
Ready to Order or find out more?
Contact us today for a free quote!